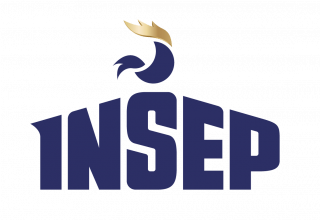 SYMBOL
INSEP uses an image that clearly symbolises its French identity – the cockerel – which takes on a bold and original design. 
FONT
The original structure of the font alludes to the dome at the Halle Joseph Maigrot, a place steeped in history and an iconic part of INSEP. 
The design also suggests a podium, the symbol of excellence and success in sport. 
MAIN VERSION
The colour version is the main version of the logo and is used in the majority of printed material, digital applications and office supplies. 
EXCEPTIONS
When the size of the logo has to be significantly reduced, the unicolour navy blue version must be used.
INFORMATION
INSEP retains the exclusive right to logos available for download.
Their use is subject to prior approval and authorisation from INSEP's Communication/Audiovisual hub. To request authorisation, please contact INSEP by email via : laure.veyrier@insep.fr